Booster Club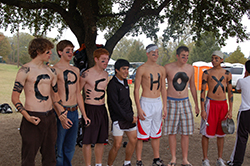 Athletics play an important role in our sons' education at Cistercian.  The Booster Club's mission is to assist the Athletic Department as it works to support the mission of the Prep School.  Through team athletics, Cistercian students learn to face challenges, to overcome their limitations and to develop personal integrity through sportsmanship, all while experiencing the rewards and lessons that come from teamwork. The Booster Club promotes and encourages all Cistercian athletic programs by offering logistical, volunteer and financial support to this important aspect of our sons' Cistercian education.
As you probably know, the Booster Club operates the concession stands throughout the year, with the help and support of many parents through their volunteer efforts.  Most importantly, your Booster Club membership dues continue to fund improvements to the facilities and provide for the purchase of new equipment and the replacement of worn-out uniforms.  Cistercian relies on these contributions to help defray the cost of athletics.  Your contributions of time and money (and cheering!) help improve the overall athletic experience for our sons.  As we work together in support of our teams and the mission of the School we further strengthen both personal friendships and the entire Cistercian community.
Our athletic year kicks off soon – Thursday, August 14 – with the annual Kickoff Dinner!    The dinner, which starts at 6:30 pm in the AIR-CONDITIONED gymnasium, is free to Booster Club Members, and to faculty, staff, and Cheerleader families.   This year, we will enjoy a fried chicken dinner catered by Babe's Chicken House!!  Please plan to attend and get acquainted with our Hawks Booster Club members.  For Middle School families, this event is a great opportunity to experience our school spirit and also to meet parents and coaches who can tell you more about our programs. 
Our athletes will benefit most from you taking the time right now to complete the attached membership/interest form and return it along with your membership payment.  You may also register and pay your membership online – just follow the links below. Please note on the form any commitments you can make in volunteering to help for athletic events throughout the year.
Thank you for your continued support of Cistercian Hawk Athletics!
Resources: